Search Engine Optimization is an unpredictable industry, we all know that. Just when you think you have the grasp of how things work, Google comes out with an update and changes things again. Although this is to some people's dismay, especially business owners who lose rankings as a result of said updates, Google does this because of one reason: the user experience.
The beginning of this year saw some major updates such as AMP (Accelerated Mobile Pages) and how they are practically preferred by Google over "normal" mobile-friendly websites because they are faster to load, so the user has to wait less for the pages to render.
The second half of the year brings some possible changes to the Search Engine results as well. Some of them may affect you, some may not. Nonetheless, rejoice in the fact that knowledge equals power.
Presented by Melbourne-based Search Engine Marketing specialists A.P. Web Solutions. Let's start with the biggest one:
Update #1: Changes to the Local Map Pack
The map pack (often referred to as the 3-pack in the SEO industry) is a set of 3 Google map listings that are displayed at the top of the search results. They do not exist for every keyword or every search, but most local business related searches display map results. For example, if you searched "Melbourne builders" or "Melbourne architects", you would see the map pack. Last year, these results used to display 7 local listings but Google changed it and the 7-pack became a 3-pack. But there might be another upcoming change. Let's have a look at what the 3-pack could look like in the months to come.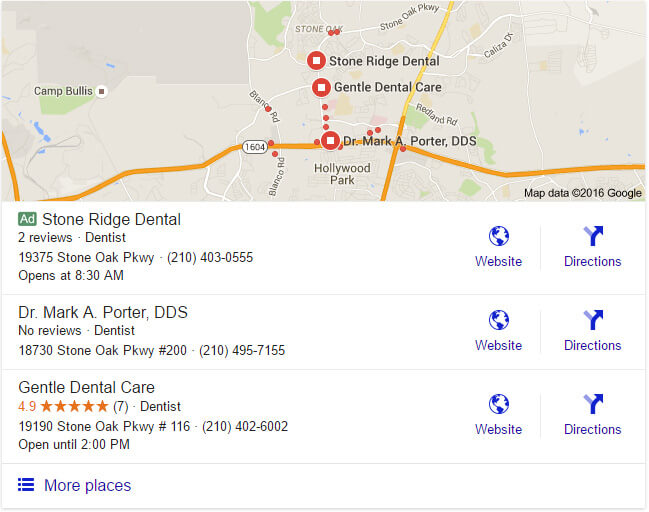 Notice anything different?
The top listing has been replaced by an Ad. This means that one of the businesses in the 3-pack that is now getting business and phone calls because of the visibility may be losing its spot (quite likely the business in the 3rd spot)
This is currently being tested in the United States and has been confirmed by Google. So as is usually the case, Australia is bound to get the same, albeit a bit later in the year, or early next year. So if you or anyone you know is currently holding the #3 spot for their main keyword, now is the time to work on it!
Update #1.5
While we're on the topic of Google My Business, some of you may have noticed that you can no longer edit the Description when you log into your Google My Business. But do not fear, there is always a workaround. The process now is to Edit your "Story" in Google+
Update #2: Instagram For Business: Not For Everyone
Instagram is rolling out a newer feature that will let you switch a Normal profile to a Business profile. It comes with additional features such as analytics, stats, and demographics. You can also Boost posts, similar to Facebook Pages.
Our testing shows that by switching over to a Business profile, the algorithm slows down significantly, meaning that your posts are shown to fewer followers in comparison to a normal account. Quite possibly to make people want to use the Ads feature to get more engagement. So it may or may not be for you, depending on the kind of following you have and how valuable the new features are to you.
Use this guide to convert your Instagram to a Business account.
That's all the major news to keep an eye out for! If you got something out of this article or have any follow up questions, please leave a comment below and I would be happy to answer.